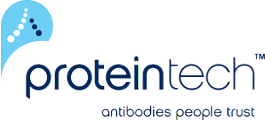 Over 95% of Proteintech antibodies are raised against whole protein immunogens, resulting in higher binding sensitivities.

This means greater successes in a wider range of applications and species.
PTG makes all antibodies from start to finish, so they know every last detail about each one.

Plus, they test every antibody in a variety of applications as standard, refusing to sell any that fail Western blotting using whole tissue or cell lysates. Proteintech extensively validates and optimizes their antibodies – many are even tested with siRNA to show antibody specificity.
About Proteintech: http://www.ptglab.com/Contacts/About.aspx